The Ride Celebrates Childhood Cancer Survivors
The Ride Celebrates Childhood Cancer Survivors
October 3rd, 2019 | Rob Kelly
Each year since 2016, The Ride has brought together thousands of community members to volunteer, ride and donate money for cancer research at the University of Wisconsin. Despite this year's weather-caused cancellation, The Ride exceeded its fundraising goal, bringing the four-year total amount raised to $1.5 million.
In addition to raising money to help UW researcher to pursue projects aimed at improving cancer patient care, The Ride provides inspiration to all who attend. One of the most inspiring features of The Ride is the Celebration of Life, the portion of the program when cancer survivors and their families share their stories. Three pediatric patients who were treated at the UW Carbone Cancer Center and American Family Children's Hospital were scheduled to appear at The Ride this year. Since the wet weather prevented them from speaking to an audience, we're taking the opportunity to share their stories here. These stories illustrate the resilience of ordinary people facing major health crises and the progress in cancer treatment that has enabled them and so many patients like them to survive, grow and look forward to a healthy future
Mihir Manna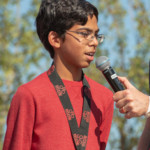 Mihir Manna is an engaging, optimistic and enthusiastic 15-year-old sophomore at Middleton High School whose face lights up when he talks about his academic and extracurricular interests. Math is his favorite subject, and he plans to work as an aerospace engineer when he grows up. He enjoys being with friends, playing trombone and clarinet in jazz band and gives swimming lessons at Swim West.
Three-and-a-half years ago, his busy, happy life was disrupted by a cancer diagnosis. In spring 2016, he developed a persistent cough. He'd had allergies and used an inhaler when he was younger, so it wasn't too concerning at first. But this time the inhaler didn't help much. He then developed other symptoms, including low-grade fever and night sweats that were perplexing at first because they were so sporadic. "I wasn't feeling very energetic at all," Mihir says. "By mid-spring, I was struggling to keep up in gym class, needed long naps after school and nearly missed my bus stop after falling asleep on the way home. We knew something was up when Mom noticed a bump on my chest during the last week of May."
A chest X-ray at the Urgent Care clinic revealed a mass pressing on his trachea and lungs. He immediately went to American Family Children's Hospital for further testing. A biopsy and blood tests confirmed that he had classical Hodgkin Lymphoma, a cancer of the immune system that can form tumors in the lymph nodes of the neck, armpits or chest.
"When we received the news, I was dumbfounded," says Mihir's mother, Radhika. "I thought, how did the tumor get so large without any of us suspecting what's going on? I felt upset that it was not caught earlier, but I heard from several doctors that mediastinal tumors are hard to detect and often discovered when children are treated for something else. I accepted this explanation, but at the same time it was very unnerving to think that cancer can just sneak up on you."
From the start, Radhika and her husband, Dipankar, decided to tell Mihir that he had cancer. "We wanted him to know and to feel in control of what is going on around him and understand the decisions that were being taken at every step for him," Radhika says. "We felt the more he knew and engaged how he felt about what was happening the better he will be able to drive himself to feeling better."
Mihir had five rounds of chemotherapy from June through September and responded well. Six weeks later he began a three-week course of radiation therapy.
Mihir experienced a long list of side effects from the treatment, some of which needed additional medication to be managed. But he continued to live his life with few restrictions. If he felt able to engage in an activity, his doctors allowed it. So, he and his family traveled to new places and continued to make happy memories.
"I wouldn't call myself particularly brave," Mihir says. "I'm terrified of needles and did not find it easy to endure chemotherapy. I think what helped the most was the support from people around me because I felt stronger knowing that I have people to help me get through hard times. And my family was one of the biggest sources of my strength as I was going through this because they were close to me and present with me throughout."
Radhika deeply appreciates all the people who were part of this journey with her son and family. "There were so many people to hold our hands through the process, including the oncologists, residents, a team of nurses, child life specialists (who played a big role in supporting Mihir during numerous pokes and scans); and a psychologist, who talked to Mihir and his younger brother about what Mihir was going through. They were always available to answer a lot of questions, and they explained everything to us in a lot of detail. We never felt that there were any questions left unanswered."
Radhika is extremely grateful for the research-driven treatment advances that have dramatically improved survival rates for Hodgkin Lymphoma patients.
Making advances in cancer treatment requires enormous amounts of money. As a scientist who has relied on grant funding to conduct research, Radhika knows firsthand how difficult it can be to obtain funding from agencies such as the National Institutes of Health. Researchers must be able to show that their projects will produce useful findings. They do this by conducting pilot studies that are often funded through donations. This is why Mihir and his family have participated in The Ride.
"In recent years, we've seen so much progress in things like reducing the after-effects of cancer therapies," Radhika says. "Compared to even a decade ago, the dosage of chemotherapies for children is so different. Today they're trying to improve the precision of radiation treatments so that patients have fewer side effects down the road. I think the contributions by doctors and researchers is enormous. It is important to raise awareness of the need for that kind of research and to provide support for them to keep the research moving forward."
Survivors of pediatric cancer, like Mihir, have a long road ahead of them filled with challenges and promises. "When I see Mihir competing at cross country meets with his team and looking forward to making it to the school swim team next season, I realize that all this would not have been possible without the rigorous research that has altered the course of his life," Radhika says.
Bella Nava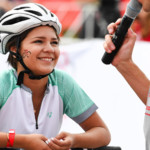 In 2016 at age 13, Bella Nava was having intermittent pain her left hand. She thought she might have hurt it playing volleyball or banged it on something. When she did a pullup at a friend's house, the pain got worse and her hand swelled. She thought it was a sprain, but it turned out to be Stage 3 group 3 alveolar rhabdomyosarcoma, a rare and aggressive cancer that affects soft tissue.
She was in the basement of her family's home when she got the news. "I was playing Mario Kart. My mom came down and told me. I said, "OK." I told her to go upstairs and continued playing because it didn't even feel real. It only began to feel real a couple of months into treatment," Bella says.
"Rhabdomysocarcoma is so rare that we considered going to a sarcoma center for treatment because they see this type of cancer more often. We talked to doctors at several hospitals, including the University of Wisconsin. After one appointment at UW, we decided to stay there. I can't imagine going anywhere else," says Bella's mother, Karla.
Treatment consisted of 11 months of intensive chemotherapy led by Dr. Margo Hoover-Regan, a UW Health pediatric medical oncologist, and five-and-a-half weeks of radiation therapy in the middle of chemotherapy led by Dr. Kristin Bradley, a UW Health radiation oncologist.
Bella experienced serious side effects—she went from 90 to 76 pounds and had a weeping hand wound. Concerned about her weight loss, her doctors recommended a feeding tube. But Bella held out for an appetite stimulant medication instead, which "made me feel in control for a little bit," she says.
When chemotherapy became more than she could take, she once again took control and insisted on postponing treatment for a week to give her enough time to recover from the previous treatment.
Bella describes herself as a "bubbly and happy person in general" but struggled during treatment. "There were definitely times when I was completely depressed and didn't want to get out of bed."
But other times she was able to remain positive. "I don't know how I did it, but there was something that came over me and I thought, I've got to do this," Bella says.
Bella's upbeat attitude was contagious. One day while riding a scooter in the frozen foods section of the local supermarket, she and Karla saw an old friend and the friend's husband, who was thinking about discontinuing his cancer treatment. "I think after seeing me being happy on my scooter and talking with us, he realized if I could make it through treatment he could too. And he decided to continue," Bella says.
Bella was unable to attend school and the chemotherapy caused concentration and memory problems, but she was able to complete the eighth grade through a combination of in-home lessons from teachers and online learning.
Nearly three years since completing treatment, Bella has moved on with her life. She's a high school senior with a driver's license and a car (she loves to drive). She doesn't play volleyball anymore to avoid injury to her hand, but she is considering track as an alternative. Looking further ahead, she is considering a career in veterinary medicine.
Bella and Karla passionate about helping others cope with cancer and hope for effective treatments with fewer side effects, particularly for younger patients. They too have participated in The Ride.
"Bella is constantly dealing with late effects from treatment now and for as long as we can imagine. We hope the money raised will help researchers come up with better treatments so others won't have to go through everything that she has been through and continues to go through. That would be amazing," Karla says.
Maddie Schieve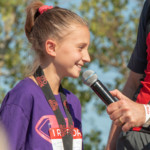 Maddie Schieve was 8 when she was diagnosed with Ewing's sarcoma, a rare and aggressive cancer that grows in bone or soft tissues. The softball-size tumor in her chest made breathing difficult. Fortunately, the cancer had not spread to her bones or other organs and could be treated with a combination of chemotherapy and radiation.
Maddie tolerated the nine months of chemotherapy and 32 radiation treatments at the UW Carbone Cancer Center exceptionally well and was steadfastly positive the whole time. Photos taken during her numerous hospital stays show her smiling, giving a thumbs-up and enjoying many fun activities offered at American Family Children's Hospital.
"At first, it was kind of scary, but it got better once I went through a couple of treatments," Maddie says. "You just have to have a positive attitude all the time and not think that something bad is going to happen."
Throughout treatment, the Schieves maintained as normal a routine as possible. Maddie's father, Matt, a Janesville police officer, and her mother, Jenny, a teacher (now an assistant principal in Beloit), took turns taking Maddie from their Janesville home to treatment in Madison, while also making time for Maddie's two younger brothers.
With the approval of her doctors, Maddie continued to participate in sports throughout treatment and ran her fastest mile in cross country just two days after chemotherapy.
Maddie completed treatment in October 2016 and is in remission. She is a healthy, happy and active seventh-grader and continues to participate in all the activities she enjoyed before her diagnosis—softball, volleyball, cross country, track and basketball—and has added golf to her long list of sports she enjoys.
Asked if things are back to normal two years after completing treatment, "Yeah," says Maddie with a smile. For Jenny, the answer is a bit more nuanced: "I think there will always be some worry, but just watching her every day become healthier and stronger is very reassuring," she says. "Returning to UW Carbone Cancer Center for follow-up visits with these really smart people who know what they're doing also really, really helps."
Raising awareness and money for cancer research is a passion of the Schieve family. Maddie and her family recently participated in The Ride three times. (In 2017, the Schieve family selected the Child Life Program for a $25,000 award funded by proceeds from The Ride.)
"I feel happy when I'm riding, knowing that the money will be used to help find better treatments for kids like me," Maddie says.
Jenny adds: "When she was diagnosed, she was too young to fully understand the scope of cancer. Now that she's getting older, she can see how important research is and is going to be involved in pediatric cancer awareness and raising money for cancer research going forward and so will our entire family. Not everyone is as fortunate as Maddie has been—a couple of her friends passed away this past year. We want to help researchers find treatments that work for everybody, not just for some people."