Radio interview with Dr. Harari and John Black
Radio interview with Dr. Harari and John Black
JOHN BLACK CANCER FREE FOR NEARLY 20 YEARS
August 15th, 2023 | Victoria Rouse
Dr. Paul Harari and John Black sat down with Shawn Prebil on 1310 WIBA recently to talk about Badger Challenge. You can hear their radio interview below.
John went in for a routine dentist visit twenty years ago and his dentist found an abscess on his tonsil. He didn't take quite as serious as he maybe should have, but fortunately his spouse recommended getting it looked at with his primary care physician right away. That abscess turned out to be cancer. Because John's spouse was adamant he got it looked it right away, it was caught early and his cancer treatment was successful. John has been cancer free for nearly twenty years now without any relapses. He's incredibly thankful for Dr. Harari and his team for their remarkable care and for making him feel at ease throughout his treatment.
If there's a lesson we can learn from John's story, it's that if something is persisting and is not normal it's always good to have your doctor take a look. It's better to be safe than sorry.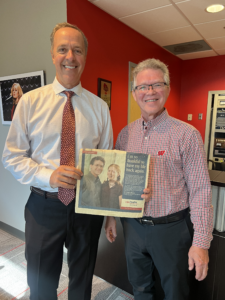 Dr. Paul Harari (left) and John Black (right) with a newspaper clipping from a story UW Health featured on John's treatment in the early 2000s.